If you're wondering whether or not organic baby clothes are worth it, or whether it's just hype, then here's what you need to think about.
1. Organic baby clothes won't harm the delicate skin of your baby, and you can be sure that they will reduce the risk of rashes or other skin irritations.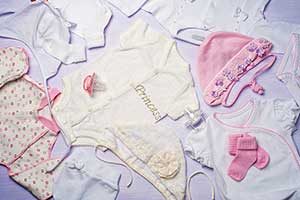 2. Organic clothing is natural and not made with any chemicals or other potentially harmful substances, so that you know your baby is getting the best start in life for his or her skin.
3. You'll want to make sure that your baby's clothing is comfortable and soft next to their new delicate skin. By choosing organic baby clothing, you can be sure that as well as feeling soft and looking good, it won't be harming their skin.
4. Because organic baby clothing doesn't have to travel halfway around the world to get here, it has a much lower carbon footprint than lots of other baby clothing. If you're keen on doing your bit for the environment, so that there is a planet for your baby to enjoy, then you'll want to do everything you can to reduce your carbon footprint.
5. Organic clothing is better for the environment in other ways too. There is no dying or processing of the cotton during the making of the clothes, and there is often much less packaging too. This means that there are much fewer resources needed to manufacture organic baby clothes.
6. You'll want to make sure that the clothes your baby or toddler wears are hard wearing and durable. As your baby grows, and starts walking, and exploring your home and garden, you'll want to know that the clothes they are wearing are up to the job.
7. As your organic baby clothes will last longer, you'll need to spend less on baby clothes, and so you can save money as well as time. You'll also know that you can pass your baby clothes on to another baby, and know that they'll still last and look as good as new.
8. As organic clothing is cost effective, it does make sense. If there are a few items of clothing that you know your baby will get a lot of use from, or perhaps you need something that looks good for a special occasion, then it makes sense to buy quality.
9. If you already eat organic food, and use organic skin care products, then surely you'll want your baby to wear organic clothes too? You'll be extremely careful about what your baby touches, and eats, so why not be aware of what s/he is wearing too?
10. As you can appreciate the difference between the difference between mass produced potentially poor quality clothing, then you'll want to make sure that you give your baby the best start in life, and ensure that his or her clothes are organic too.
Now you know more about their benefits, isn't it time your baby started wearing organic baby clothes?