Urban fashion trends have been around for the better part of a decade, and they don't show any signs of going anywhere to soon. Instead, they seem to simply evolve; from the bright colors and bling bling accessories of the hip hop style to a more understated and profession urban fashion trend of today.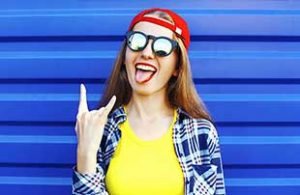 When urban style first met hip hop culture in the 1980's, the trend leaned toward bright, bold attention-getting garb that was particularly enticing to the African American and Latino cultures. Today, youth from all cultures are discovering the attraction of current urban fashion trends, as a way to break with the mainstream fashion with this teen fashion design and still fit in well in the academic and professional world.
Characteristics of Urban Style The urban fashion trends of today lean toward comfortable style with a touch of spirit. Bright colors and tailored pieces with a cleaner, more professional look have come into vogue. While flashy jewelry is still worn by some, others have moved away from these sorts of urban fashion trends to protest the materialism that the looks suggest. The designer labels that used to be a must in urban fashion trends are not as important as they used to be, and some of fashion followers even find them a pretentious reminder of days gone by. Instead, urban outfitters are looking for separates that are basic, inexpensive and fit well.
The Rise of Celebrity Wear Many celebrities have jumped on the bandwagon of urban fashion trends by offering their own lines of this clothing. Kimora Lee Simmons came out with the Baby Phat brand that is popular in many specialty boutiques and department stores right now. Russel Simmons introduced Phat Farm, Diddy offers Sean John and Damon Dash and Jay-Z offer Rocawear. This has become a popular urban fashion trend that many youngsters have joined, since they were familiar with the names behind the lines long before the clothing ever came into vogue. However, it isn't cheap to boast a celebrity name on your clothing tag, so get ready to spend a hefty amount to dress like your favorite stars.
Urban fashion trends have come and gone over the past decade or two, but on thing is for sure. This fad has become more than just a fad; it is an entire culture and way of life for many of our youth today. Whether you like the urban fashion trends or would prefer to see them run their course, it appears that this style is going to be around for a good long while.