In the last period fashion has changed excessively. Long gone the days when teenage boys didn't worry about what to wear and just threw a pair of jeans on and a simple shirt. We all know that girl's fashion is on top, but more and more attention is being given to boy fashion. Nowadays many styles have come to life: from urban, prep, punk to street wear and others.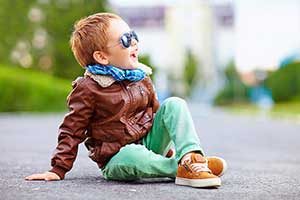 If you are a teenage boy try to pick your style according to your personality. Actually you may try various styles by mixing them up. But remember: the more comfortable you feel in your clothes, the better you look.
When buying boys clothing be sure you choose the classics: jeans, khaki pants, T-shirts, sweatshirts, sweaters and sneakers. You can match them easily and still be fashionable and feel comfortable. But match your clothes properly. First thing, colors! You can pick complementary colors that are closer together in shades like: blue and green, khaki and gray, red and orange or the classic, black and white. Be sure you choose either complementary or contrasting colors. Do not mix them together and avoid mixing patterns.
Try not to be sloppy. Everyone knows there isn't any trend that allows you to wear wrinkled T-shirts. Also, avoid the head-to-toe baggy look. It's so outdated! No matter how much you may like this look, no one – not even teenage girls – wants to take a look at your underpants. Make sure you wear a belt. It's even better if you match it to your shoes.
If you want to look your best and not dress the same way every day, invest your money in as many T-shirts as possible. They come in various colors and patterns or fun sayings and they don't cost much. Polo shirts are too a must-have for the wardrobe of a teenage boy. They are similar to T-shirts but with a neater look. Hoodies, vests, sweats and maybe some casual pants are too important in your wardrobe.
Light colors have become very fashionable in the last couple of years. So if you like light colors like pink, blue, yellow or purple don't be ashamed to wear them. By wearing such colors you make yourself noticed and not get lost in the crowd. It's also a way to show off your personality. I guarantee girls like bold teenage boys. Also don't be afraid of accessorizes. Either it's a watch, a belt, bracelets or a leather string around the neck you can really pull an outfit by wearing them.
You can save money by shopping on-line. Let your personality wonder freely with the help of clothing. It is demonstrated that people tend to be noticed more if looking great.