When the weather gets hot, it's time to shed the clothing – well enough of it to feel cool. The same goes for your toddler. They want to feel good also. Here are five of the top toddler fashions that your child must have when summer hits.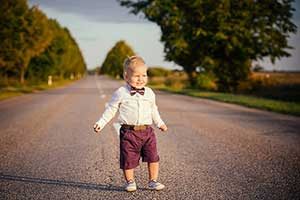 1. T-shirts – The great thing about t-shirts is that they can go anywhere and be fashionable. Consider layering for your toddler. It works for both boys and girls. Cover a simple white t-shirt with a baby doll top for toddler girls. Young boys can wear a brighter colored t-shirt over their white one for cooler mornings. When the temperature rises, shed the over shirt and simply sport the t-shirt. Choose good quality cotton t-shirts that can stand up to several washings without becoming threadbare. Introduce your kids to the vintage screen print you enjoyed as a kid like The Beatles, Jimi Hendrix and Harley Davidson. Parents like to adorn their toddlers in shirts with cute sayings like "Little Princess" or "Dad's Number One Guy." Choose fun colors like blue, hot pink and sunny yellow.
2. Shorts – We are referring to corded shorts in particular. Older boys like them and your toddler boy wants to be as much in fashion as they do. Corded shorts are long enough for your toddler to have the majority of their legs covered when playing in the sun but also loose fitting so that air can circulate and keep him cool. These shorts come in solids and surfer dude designs.
3. Sundresses – What little girl wouldn't look cute in a pink or floral sundress? For toddler girls, they can sport the spaghetti straps when you are out for a day in the park or on vacation at the beach. For an evening out to dinner, your toddler will look great in a short sleeve sundress. It is dressy and keeps her shoulders from feeling cold.
4. Jacket – Even in the summer, there are cooler nights when a jacket would make a perfect addition to your toddler's wardrobe. Coordinate their jacket with their outfit. That means having at least a jean jacket and a cotton one available.
5. Capri pants – These are equivalent to the corded shorts for toddler boys. Toddler girls will remain stylish in these calf length pants. Choose from jean, cotton and polyester blend. Give your little girl a variety of colors and prints to choose from. Many little girls like pink and purple shades. Don't forget the floral, stripes, acid wash and embroidered prints.
Whenever your toddler leaves the house, make sure that they are dressed to the nines. Here are five fashions your toddler's wardrobe needs to be complete.