The hardest part of determining teen fashion trends is that teens tend to express their individuality and uniqueness through their clothing. While some will stick to the latest and greatest items pushed by retailers or worn by celebrities when it comes to their clothes, many others try to break away into a look all their own.  If you are a teen and you want to update your look, here are some tips to help your create your own style.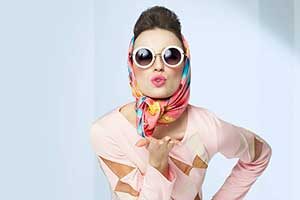 If your whole wardrobe seems to look so yesterday, then it's time you spiced it up.  The best way to do so is with accessories.  Grab a new hip pair of earrings or cool and funky belt.  Scarves can really add to your look and can make a statement about who you are without being too much.
A different pair of shoes or new bag can add a whole new dimension to your look.  Go for the newest style in bags, such as a large bag with a long strap.  The latest trend in shoes has brought back the stiletto and the higher the better.  While this may not be something practical for everyday wear, a night on the town will suit them perfectly, not to mention prom.  Just make sure you are a little bit careful or you could end up with a nasty fall and an embarrassing memory you can do with out.
When you decide it's time to begin building a new wardrobe, do you know where to start?
You might consider your favorite color.  If you can, work all your pieces around two or three of your favorite colors that you feel look best on you.  Start by adding in a cool camisole and a string of chunky beads.  Jewelry this year is big and I don't just mean in popularity.  You'll find big bracelets, big necklaces, and big, bold hair accessories as well.  Tie your hair up in a ponytail with a silk scarf; there are so many different colors and patterns available.  Find your favorite jeans or cargos, take that same cool scarf for a belt, and pair it with a brightly colored T-shirt.  Vintage stuff is really popular right now or even new pieces with vintage inspired looks.
Don't forget the sunglasses.  Big, bold, and very stylish, you'll always have a need for a pair or two of these.  Bangles are also a must have, and you may already have some of those tucked away from a couple of years ago.  Cuffs are popular again, whether it is at the bottom of a jean leg, or a jewelry piece on your wrist.  Metallic accessories, especially gold, are big again this year as well.
Once you have a base wardrobe to work from, take care of those clothes.  Keep them pressed and hung up properly in your closet.  If you use a little shopping savvy and the above tips, you'll be on the way to creating a style all your own, but that still includes the latest in the fashion trends.  Teen fashion is defined by the teen.  Remember the hottest thing you can wear is confidence, so if you feel good in your clothes, people will automatically think you look amazing.