When it comes to finding new shoes for a young boy most mothers and fathers cringe a bit because little boys are not that easy to shop for due to the fact that they tend to be quite hard on their shoes. Most boys are extremely active and often engaged in strenuous activity that leads to wear and tear on shoes after just a few months and a great deal of foot perspiration that tends to create quite smelly shoes as well.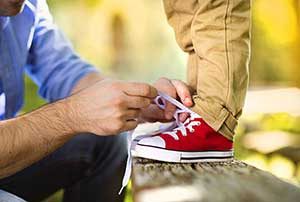 However, there are some shoes on the market that make shopping for boys shoes a little easier, in particular the Geox boys shoes because they are known for being breathable due to the fact that they have a rubber sole that sports a micro-perforated rubber sole. To help make sure that the foot gets enough air to help prevent perspiration the sole is also paired with a waterproof membrane that helps to add an additional breathability to the shoe. Therefore, the perspiration passes out through the sole so that the shoes do not smell up your house or your child's closet any longer.
Outside of the fact that this will help your son's feet to smell better and stay drier which will hopefully make them a little bit less embarrassed on a daily basis, their feet will also be healthier since they are getting the proper ventilation that they need regularly. However, since they also have waterproof leather that line the bottom of the Goex boys shoes your son can still feel confident when he is wearing them since they have enough fashion to make him satisfied. After all, boys are sometimes the hardest to outfit because they tend to be picky with their clothing and shoe choices.
For kids that are really rough on their shoes there are also Goex boys shoes lines such as the Savage line that is stitched up to look cool but also to offer extra reinforcement to the shoe. This helps to make sure that the shoe will stay together for a long period of time against any harsh activity that your son can throw at it. In addition, the feet are taken care of well due to the fact that there is a hidden cushioned textile set down inside of the insole.
Finally, given the fact that the shoes are so carefully put together each of the different ranges and collections is made to easily slide onto your son's feet so that he is supported, comfortable, and happy. For those with picky kids who are funny about the position of the sole, tongue, or laces of the shoe this is very important. Thus, if you have a picky child and want to make sure that they still get one of the best shoes out there on the market you may want to head online and take a look at the different ranges that Goex has to offer.