Fashion refers to the style and customs prevalent at a given time. When it comes to the latest fashions everyone wants to be hip, even kids! Today, it's difficult for children to keep up with the latest fashion without looking like the adults. Many of the trends for older teenage girls and boys are trickling down to the "tweens" ages 9-12, giving them a chance to express their sense of style, be cool and have fun.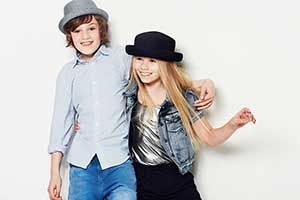 Tweens can be fashionable too!! Check out what's cool and new for your tween this year starting from the top to the bottom:
With spring closely approaching, new tween trends are stepping right out of your own closet. Girls and boys are both rocking old to new T's. Graphic T-shirts are still a hip trend that can be matched with almost anything. Pull out your old T's and make then new by adding accessories or even layering them with a plain long-sleeved T-shirt or thermal in the fall/winter. Even on a chilly day, T's can go with regular or puffy vests and/or cardigans and hoodies. With many themes and logos to choose from such as Hannah Montana and Jonas Brothers for girls to Quiksilver and rocker T's for the boys, T's are a trendy necessity for tweens.
When it comes to bottoms, jeans are perfect and they are forever popular. Jeans come in numerous styles, colors, cuts and fits. From skinny to wide-leg to boot cut to low-rise, even the pickiest tween girl or boy will find a style that works for him or her. For girls, we're seeing more denims with embroidered pockets, jewels or shiny accents that would be adorable with a matching shirt, accessories and shoes. Wide-leg and regular fit jeans will do for your preppy, skater or just plain tween boy. Or, if your son is hipster, even a pair of skinny jeans may work. Trendy tween girls aren't stuck to just typical denims when it comes to picking a bottom. Skirts and leggings are fabulous for tween girls. Tights and capri leggings can be matched with baby doll shirts or denim skirts. A denim skirt and leggings is a great way to go for a comfy yet cute and trendy day!
Finally the feet! Where could tweens go wrong? Sneakers, for boys and for girls! Try to find a style of sneaker that works for your tween because they are comfortable for the active lifestyle of a tween. Converse and Nike are very "in" for tween boys and girls. Girls can also sport cute ballet flats, boots and Mary-Jane style shoes. Flat shoes are the most comfortable way to go for tweens.
Tweens can find all these looks, plus more, inexpensively at stores such as Limited Too, Gap, Old Navy or even department stores such as Nordstrom. Tweens can stick to their own stylish tastes, choose what they like and be trendy all at the same time!